4 Damaging After Effects of a Data Breach
Data breaches are increasing at an alarming rate. In 2001, there were around 6 victims per hour; that figure has risen to around 97 victims per hour in 2022, representing a 1,517% increase. 
In today's hyper-connected world, these breaches are a looming threat for many organizations and their leaders. It highlights a need for comprehensive cybersecurity training and a significant effort in implementing the right software, tools, and policies to guard your organization.
What Are the Effects of a Data Breach on Business?
Oracle's Mark Hurd notes a data breach as one of the greatest concerns for an organization, from a business risk perspective. And it's easy to see why; the extensive and variable risks businesses face upon falling victim to a data breach can be damaging to revenue and reputation, as we'll explore below.
Perhaps the most damaging consequence of a data breach is the financial loss associated with it. Depending on the nature of the breach, there are various financial problems that can result. Data from Statista highlights how the cost of a data breach for US organizations has risen to an all-time high of around $9.44 billion in 2022. This is almost triple the figure recorded in 2006. This figure can increase, too, for every day that the breach goes unresolved.
The costs don't end there, though. Businesses that suffer breaches may have to grapple with costs incurred from containing the breach, compensating affected customers, realizing a decreased share value, and heightened security costs resulting from a need for further investment in cybersecurity.
Historically, the financial losses are significant:
This list is certainly not exhaustive, and it shows that even the biggest tech firms are not immune to cyber attacks. However, make no mistake; small businesses are equally exposed. 
Almost half of all data breaches impact firms with 1,000 or fewer employees, which is why every single employee should be trained in understanding how to identify cyber threats.
In today's hyper-connected world, news travels fast. Even those who may have never heard of your company will likely hear about a breach within the days following. The damage a data breach can have on a business can be devastating, particularly if the breach was an avoidable one or put customer data at risk.
Lost confidence, negative press, associated identity theft, and potentially negative customer opinion of your company can impact your business, leaving a dark cloud over your reputation and casting doubt on the integrity of your company and the safety of its products and services. In fact, the research in this area is alarming and shouldn't be ignored:
Nearly two-thirds of. customers switch to a competitor after a poor customer service experience

Customers tell around 9 people about a good customer service experience, but they tell 16 people about a poor experience

One poor experience is all it takes to drive around 91% of consumers to an alternative brand

Customers

trust brands less

– even major brands like Sony – when privacy flaws are revealed

A data breach announcement

results in a significant decrease

in customer spending and customer migration to other brands

It costs 25 times more to get a new customer than to retain a current customer
With all the attention pointed at you after a breach, it's crucial to ensure your aftermath-management is handled properly. If not, you risk losing current and potential customers to competitors who may be viewed as more secure.
What is worse is having the negative press about your company, like these below.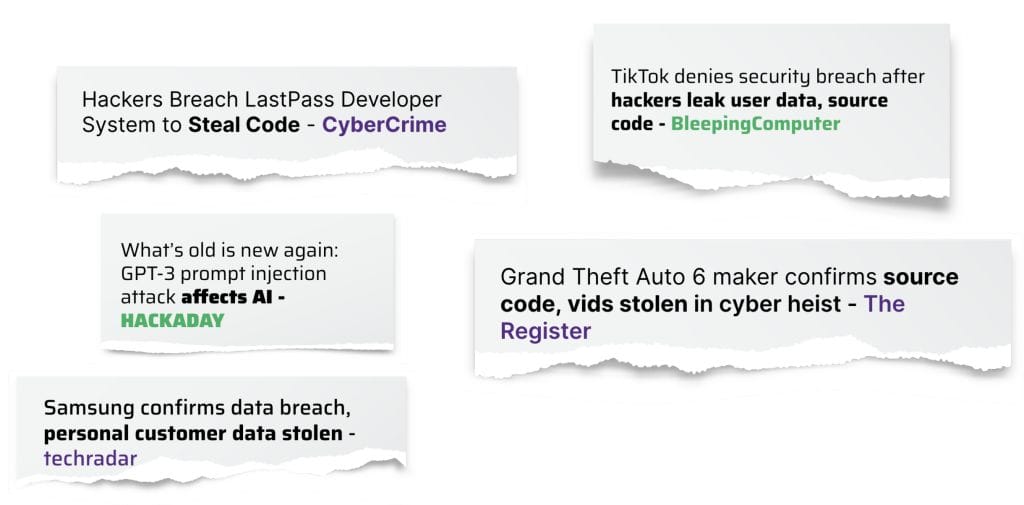 3. Operational Disruptions
From the moment your data is compromised, to the entire investigation and recovery process, the effects of a data breach significantly impact business operations. Depending on the severity, data breaches can result in a complete loss of important data, which requires victims to spend long periods time recovering normal operations.
The most common course of action in these scenarios is to totally shut down operations until a solution is found, allowing for ample time to focus on finding the source of the breach. Unsurprisingly, this has a trickle-down effect. The longer operations are shut down, the more likely customers are to leave, which can result in even more lost revenue. Sadly, 60% of SMBs close within six months of a cyber attack.
Worse still, the effect on operations is expected to worsen in the coming decade. For now, impact on operations typically means financial loss resulting from being unable to bring in new sales or maintain other normal, day-to-day operations. But new research from Gartner predicts that by 2025, 30% of critical infrastructure organizations will experience a security breach, resulting in complete cessation of operations. By 2025, this could even extend to cyber attackers weaponizing operational technology to cause physical harm.
The message is clear: the effects of cyber attacks and breaches are becoming more and more severe, and organizations cannot afford to delay implementation of a robust cybersecurity strategy.
Cyber breaches involving individual's personal information often result in class-action lawsuits. In recent years, examples of breaches that affected consumers and led to tens of millions of dollars being paid out via lawsuits and settlements include Target, Home Depot, and Neiman Marcus.
However, it is not only individual consumers who may leverage legislation to punish companies that overstep the line. Few recent cases are as startling as Clearview AI, a facial recognition technology startup that infringed on data privacy rights across the globe. What's more, this wasn't accidental. Clearview gathered billions of images of people's faces without permission, storing them for AI (artificial intelligence) and machine learning purposes. When news broke:
Such a flagrant violation of clear data privacy laws clearly angered legislators, and in addition to significant financial loss, Clearview faced the demise of its business in several countries and regions.
Overall, when you tack on all the legal fees that go along with payouts to lawsuits or breach of legislation, businesses stand to face much higher costs than most can weather. And as the Clearview example shows, authorities may even restrict companies from performing certain operations until legal investigations are complete, which can lead to additional long-term issues.
If you feel you've noticed a pattern among these four sections, you'd be correct. What makes each of these after-effects so devastating is how they are all circumstantially linked to one another, and how once you get caught up in one issue, the other three are sure to follow.
Preparing yourself for the threat of an attack and taking proper preventative measures is the best way to ensure your business doesn't fall victim to a cyber breach. If your organization doesn't take cybersecurity seriously, ensuring that all staff are aware of the risks and consequences of cyber breaches, then your business is bound to pay the price. 
As major tech brands have shown us, nobody is safe from a breach. It's not a question of if it'll happen to your organization, but rather when.
ThriveDX offers award-winning training solutions to help prevent data breaches from occurring at your organization. ThriveDX's innovative training platform is customizable based on your organization's unique needs. Talk to one of our cyber specialists today to find out how our no-nonsense strategy can significantly reduce the risk of attack.
Protect Your Organization from Phishing
Those aspiring to a career in the cybersecurity industry often find themselves faced with
Online, self-paced learning offers a dynamic and flexible approach to redefine how individuals can
Your Trusted Source for Cyber Education
Sign up for ThriveDX's quarterly newsletter to receive information on the latest cybersecurity trends, expert takes, security news, and free resources.